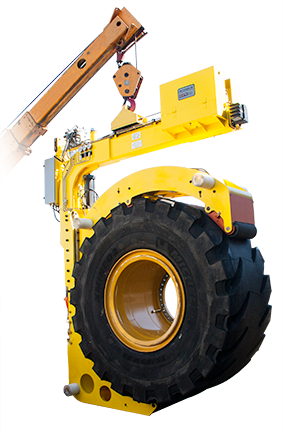 The battery-powered Hydraulic Tire Manipulator Installation Device provides safety and ergonomic lifting assistance for installing tires on the wheel loader of heavy equipment assembly line.
Capacity: 5,000 lbs.
Powered: Battery Powered Hydraulics
Automation: PLC
Minimum Clamp Opening: 27"
Maximum Clamp Opening: 51"
Maximum Load Size: 60 x 60 x 51

Features:
Overhead Crane Mount
RF Remote Control
Wheel Clocking, Continuous Rotation
Horizontal to Vertical Rotation
Forklift or Wheel Loader Mount
90 degree tilt, Horizontal to Vertical
High-resolution Camera
Side-Shift Option
PLC Controls and Safety
Quick Connect Options
Variable-Diameter Capacities
Additional options available.
Download Tire Manipulators Information Sheet

---
---
More Manipulators by Aura Systems Inc